On A Mission to Recover Big Wheels During a Wrecker Service Call in Divine
The towing community is filled with kind individuals looking to help anyone out who needs assistance. We received a wrecker service call on the evening of October 3, 2019, from a friendly towing service the next county over. A tractor-trailer carrying Michelin tires was disrupting traffic in both lanes on due to being overturned in the middle of I 35 S just south of San Antonio in Divine, TX.
We arrived quickly at the scene to help our friend out and to get everyone home after a long day of work. About 500 tires had been littered across I 35 S after the trailer was compromised. The sides and roof had collapsed, so we had to bring in our own trailer to put the tires into. We called on a local company that often assists us with clean ups on large wrecker service jobs like this one. They quickly had 15 guys on the scene to stack 500 tires into the new tractor-trailer. Since we were losing daylight, we brought in our own lighting to ensure everyone on scene could see.
The entire wrecker service job only took a few hours thanks to the wonderful team we employed and the great assistance from everyone on the scene. The other wrecker service team had exceptional employees. Both of our towing companies had 50-ton wreckers on scene.
We want to give a huge thanks to our good friend for trusting us to help out with this wrecker service. We also want to thank the Divine Volunteer Fire Department and Divine Police Department for their assistance during this heavy wrecker clean up.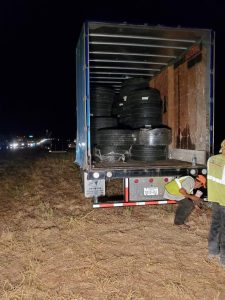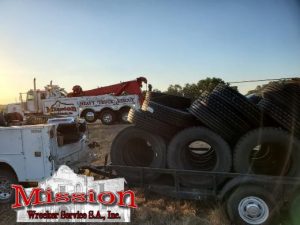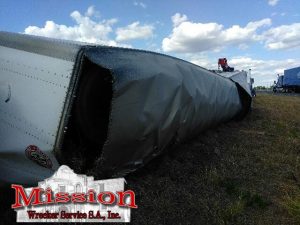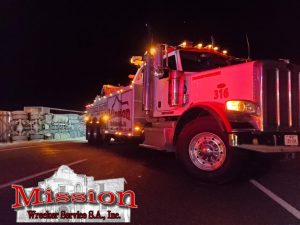 Details of the Wrecker Service Job in Divine
Mission Wrecker was called upon by another towing company the next county over to assist with a wrecker service call. An overturned tractor trailer had 500 Michelin tires spread across I 35 S just south of San Antonio. We had to have a 50 ton wrecker, equipment trailer with axillary lighting and our generator, and a lot of manpower. We had to call on a local company to come in and assist with cleaning up the tires.
Before we could overturn the truck and trailer, we needed to clean up the tires. The local company we called in had 15 men quickly move all 500 tires into a new tractor trailer we had brought to the scene. It took them 1.5 hours to clean up all of the tires.
Once the tires were moved, we overturned the tractor and trailer. The wrecker service company that called us to assist them on the job also had a 50 ton wrecker. We had to use both of our 50 ton wreckers to successfully overturn the trailer.
This one took a lot effort from everyone involved.
The above marketing copy and photo images are not an accurate account of the facts of this tow or recovery. The marketing copy and photo images are a marketing description created for marketing purposes only and do not replace an actual detailed, legal description accompanied by verified images that serve as testimony of the actual events that occurred during this tow or recovery.