Fight Against Covid19 Aided by San Antonio Towing Service
Our San Antonio Towing Service was contacted on Thursday March 26th to do some important work to help in the fight against the coronavirus. Mission Wrecker was asked to pick up a tanker trailer filled with Oxygen at the level 1 trauma center at San Antonio University Hospital. The tractor had developed a problem with its clutch and the oxygen had to be delivered. We stepped up, hooked up the oxygen to our heavy wrecker. The Mission team completed the delivery.
We wanted to compliment our team for stepping up. Check out the oxygen tanker attached to the cab in the pictures.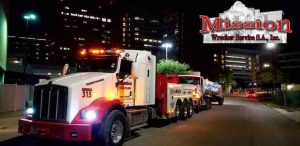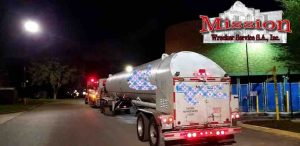 Details of San Antonio Towing Service and Oxygen Delivery
The Mission, San Antonio Towing Service Team was called to help with a critical service in the fight against the coronavirus. Our dispatcher listened to the problem. A truck carrying critical oxygen for covid19 patients faced mechanical issues. It could not continue. That's when Mission Wrecker was contacted. Our San Antonio Towing Service team arrived to assist. Since the trailer had to arrive on a short time line, our team discussed options. Repairing the cab in a timely way wouldn't get the oxygen there in a timely manner. Our San Antonio Towing Service team decided to disconnect the trailer from the cab. Our San Antonio Towing Service team decided to work together to attach the trailer holding the oxygen to a heavy wrecker. The team walked over to the connection point between the trailer and the cab. Our San Antonio Towing Service team then unfastened safety features. They then disconnect brake connections between the cab and the trailer. Then a San Antonio Towing Service team attached a winch to the cab. He made sure it was cleanly connected. Next the San Antonio Towing Service team winched the cab out of the way. He needed to make room for heavy wrecker. Once the cab whose engine had a broken clutch was moved out of the way. The San Antonio Towing Service team backed the heavy wrecker in front of the tanker holding the oxygen. The San Antonio Towing Service team backed up the heavy wrecker. They then attached the tanker holding the oxygen to the heavy wrecker. The San Antonio Towing Service team securely attached all connections including brakes and safety devices between the heavy wrecker and the tanker holding the oxygen. The San Antonio Towing Service team drove from the site of the clutch issue toward the San Antonio University Hospital on Medical Drive