Mission Assists Tractor Trailer That Had Too Much Tequila and Needed a Tow
Need a tow? This tractor trailer carrying pallets upon pallets of tequila definitely did! The tractor trailer was driving on the I-10 Eastbound in the early hours of the morning when all of a sudden the trailer broke in half! As bottles of tequila leaked onto the highway, the Mission Wrecker crew arrived and jumped straight into work!
Thankfully, although the damage to the trailer was immense, only one pallet of tequila was sacrificed to the highway gods. Over 12 crew members worked tirelessly to move the remaining pallets of high quality tequila out of the broken trailer and into a spare trailer that belonged to Mission Wrecker.
In order to do this properly, they had to move the pallets out of the broken trailer then repalletize and shrink wrap them. All this on the side of the highway! One could only imagine what the highway patrol would have thought when they drove up to the scene to find 12 people and bottles upon bottles of tequila.
All the pallets were moved and secured into the new trailer within 2 hours. The towing team towed the tractor and broken trailer to the impound lot. The saved bottles of tequila were safely stored at Mission Wrecker headquarters until the following morning.
Great job team!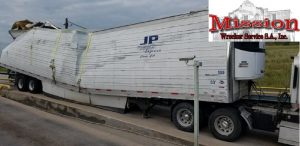 Details of Mission Assists Tractor Trailer That Had Too Much Tequila and Needed a Tow
Dispatch center received a call for a broken down truck on the I-10 eastbound in San Antonio for a truck who could definitely need a tow. One team was dispatched immediately followed by a back-up team.
The heavy tow team arrived at the scene of the incident and assessed what happened. This truck was in definite need of a tow. The truck was carrying pallets of glass tequila bottles when the floor broke in half. This caused the walls to buckle and the trailer to need a tow. The towing team used a pallet jack and forklift to unload the pallets from the broken trailer that needed a tow. One at a time, the towing team unloaded the pallets using pallet jacks and forklifts.
The heavy towing team repalletized and shrink wrapped the pallets prior to loading them in their trailer. Once the pallets were all in the trailer, part of the heavy towing team drove the tequila back to Mission Wrecker headquarters where they would be picked up the following morning. The heavy tow team then used 2 heavy duty wreckers to tow the broken trailer and the tractor to an impound lot.