Accident Towing Team Responds After HUGE Crash
Mission Wrecker's accident towing team was called out to the scene of a massive accident on February 16, 2022. The call came in a little after 10:30 PM and a team was immediately dispatched to Mainland Drive near Burns Crossing.
Tow truck drivers see it all. You never know what a day will bring. That being said, even our experienced emergency response team were shocked at the state of the wreckage. A pick-up truck was making his way down Mainland Drive when a car suddenly merged in front of it.
The merge caused the truck to lose control, hit the median, and roll over several times. Miraculously, the truck driver only sustained minor injuries. The driver of the car was unharmed.
Mission Wrecker's San Antonio accident towing team got the wrecked vehicle on the back of a flatbed tow truck. Keep up the good work team!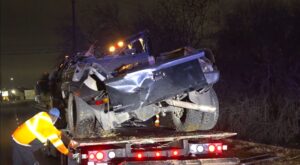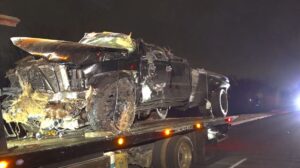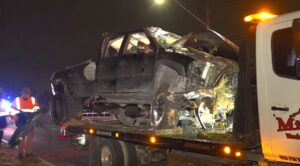 Details of Accident Towing Team Responds After HUGE Crash
A call for an accident towing team came in just after 10:30 PM on February 16, 2022. The accident towing team was immediately dispatched from 5042 Service Center Dr, San Antonio, TX 78218, United States.
Once on the I-410 E, the accident towing team continued to the I-35 Frontage Rd/NE Interstate 410 Loop where they took 164A from I-35 S/I-410 S. They then followed Rittiman Road and Business Park until they arrived at the scene of the accident.
Once the accident towing team arrived on location, they assessed the situation. A black pick-up truck had lost control while driving and rolled over several times. To say the truck was a wreck would be an understatement. The emergency towing team noted that, amongst many other issues, the roof of the car was bent inwards.
Once the police on scene gave the accident towing team the go ahead, they began the recovery process. They had brought a medium duty flatbed tow truck with them. The accident towing team hooked onto the front end of the damaged truck. With the winch line in place, they winched the black pick-up truck onto the flatbed tow truck.
Once the pick-up was on the trailer, the accident towing team secured it in place. They received information on where the police wanted them to bring the vehicle and completed the job.
Mission Wrecker provides 24 hour emergency towing, heavy towing, and recovery services in Converse and San Antonio, TX. Their in-house dispatch team is always available, ensuring that customers looking for a tow truck will never get an answering machine on the other end of the line.
If you need a tow in San Antonio, call the team at Mission Wrecker: 210-341-0333