Towing Company Trains with First Responders in San Antonio
San Antonio towing company, Mission Wrecker, knows the importance of working with their peers and first responders, especially during emergency situations. Since 1970, they have been serving the Converse and San Antonio, TX communities with their trusted roadside services.
The towing company has been involved with many accident scenes throughout their 32 years in service, and have worked closely with San Antonio's first responders. The towing company understands that cross training is extremely important for both parties. They believe that knowing how each other's equipment works makes them more efficient in emergency situations.
The Mission Wrecker team was excited to train with both of the San Antonio Fire Departments Rescue Teams. The towing company crew was able to show the SAFD what rotators are capable of, and more importantly, how towing and fire crews can work together in emergency situations.
The goal is always to create a quicker and safer working environment, as well as provide a better service to the community. The towing company and first responders were able to train together with that common goal when they practiced an emergency scenario of a car accident and semi tractor trailer.
Mission Wrecker would like to thank the SAFD for collaborating and brainstorming with the team. This towing company looks forward to many more cross training sessions in the future!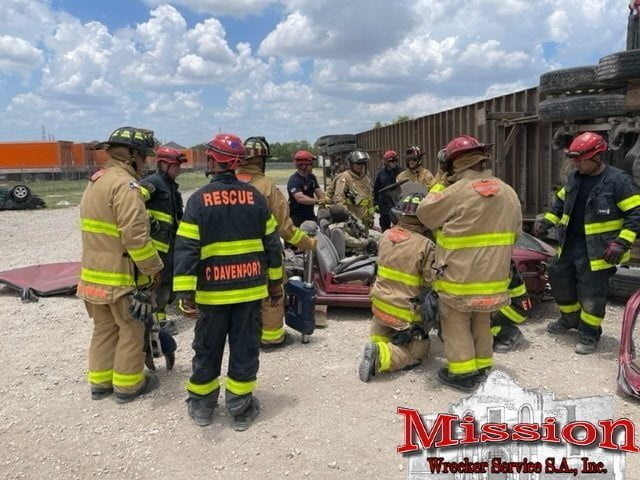 Towing Company Uses Rotator For Various Scenarios
Rotators are often mentioned in Mission Wrecker's towing company chronicles, but you may be wondering – what does a rotator actually do? Rotators are an incredibly useful piece of equipment in any towing company's heavy towing division. They are a crucial piece of equipment for any towing company, including Mission Wrecker!
Did you know that rotators are the largest tow trucks in the market? While heavy wreckers have a fixed boom, rotators have a pivoting boom with a crane-like arm which allows for more movement and versatility. The towing company crew at Mission Wrecker have found them to be extremely useful in certain situations.
What are some examples where Mission Wrecker towing company has used rotators? The Mission Wrecker team has used a rotator as a mobile crane to move a generator between two houses. Rotators are able to work in tight spaces, which made it perfect for this job. Rotators are the perfect alternative to bulky cranes because they are able to squeeze into smaller spaces. Our rotators have also been used to upright an overturned truck in an embankment and to lift a broken trailer in the air!

If you are in search of a trusted towing company with state of the art rotators and highly trained and efficient crews, look no further than Mission Wrecker! Our professional and experienced team service Converse and San Antonio, TX and their surrounding areas. To find out more about our roadside services, give our friendly dispatchers a call at (800) 372-5060. We are standing by and available for you 24 hours a day and 365 days a year!