San Antonio
Heavy Duty Towing

Services - Heavy Towing Near Me
San Antonio Heavy Duty Towing Services - Heavy Towing Near Me
Do you know why more people trust Mission Wrecker for their heavy duty towing needs in San Antonio, TX? Here's why–
We are well-equipped to handle any heavy duty towing job! Mission Wrecker has over 50 trucks including heavy wreckers, a rotator, landolls, tractor trailers, flatbeds, light duty wreckers, medium duty wreckers, a forklift, skidsteer, and more!
We have the experience! In business since 1970, our professional team is the trusted heavy duty towing provider in San Antonio. All of our tow operators are licensed through the Texas Department of Licensing and Regulation and have gone through extensive training.
We promise quality service! Our crew is up to speed with all the latest loading techniques and recovery techniques, and all of our team puts your satisfaction first. We are trusted by the Texas DOT, San Antonio PD and State Troopers, so you know you will be in safe hands!
Want to learn more about our heavy duty towing services? Need a heavy tow truck now? Call Mission Wrecker today at 210-341-0333. Our heavy towing team is standing by!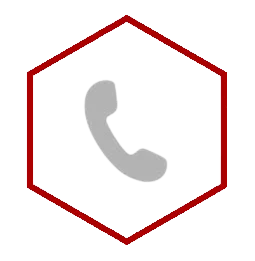 To learn more about our 24/7 Heavy Towing Service and to speak to a member of our team, call us at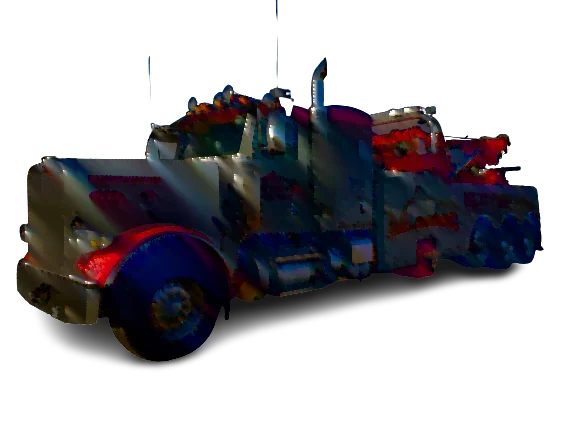 How We Handle Semi Truck Towing and Big Rig Towing
For over 50 years, Mission Wrecker has served the San Antonio community with their reliable semi truck towing and big rig towing services. With decades of experience, you know that you can lean on our skilled, certified, and experienced towing crew.
Looking for the heavy duty towing experts in San Antonio? Mission Wrecker can get the job done for you! Semi truck towing and big rig towing jobs are in our wheelhouse and you can trust that we will get your heavy towing job done right.
For the San Antonio heavy towing, call the team at Mission Wrecker today!
Need Heavy Duty Towing Assistance? Call us today!
San Antonio Off-Road Recovery Service Near Me
Need a San Antonio towing company that you can rely on for heavy duty off-road recovery? For emergency winch-outs or assistance with off-road recovery, Mission Wrecker is the towing company to call. Our experienced heavy duty recovery team at Mission Wrecker can handle any off-road recovery. That's why the Texas DOT, San Antonio PD and State Troopers trust us!
Our experienced team has served San Antonio and its surrounding areas for over 50 years. All of our drivers and operators are WreckMaster certified and undergo continuing education courses, so you can rest assured that you are working with the pros!
For off-road recovery or load transfer assistance, call us now at (210) 341-0333!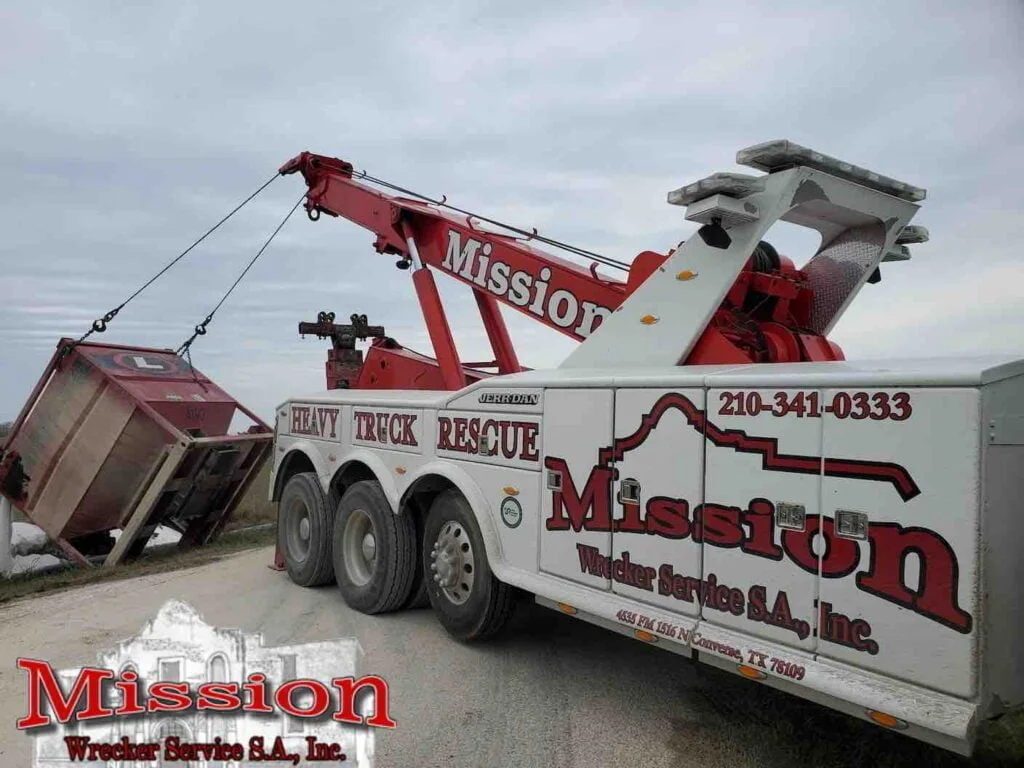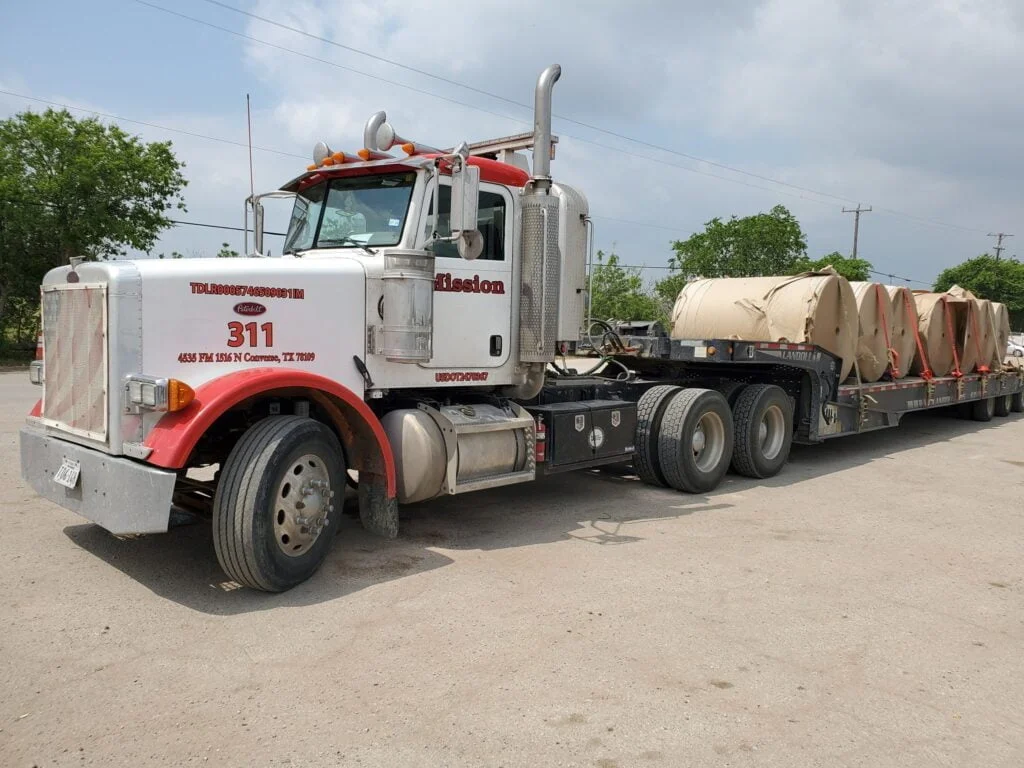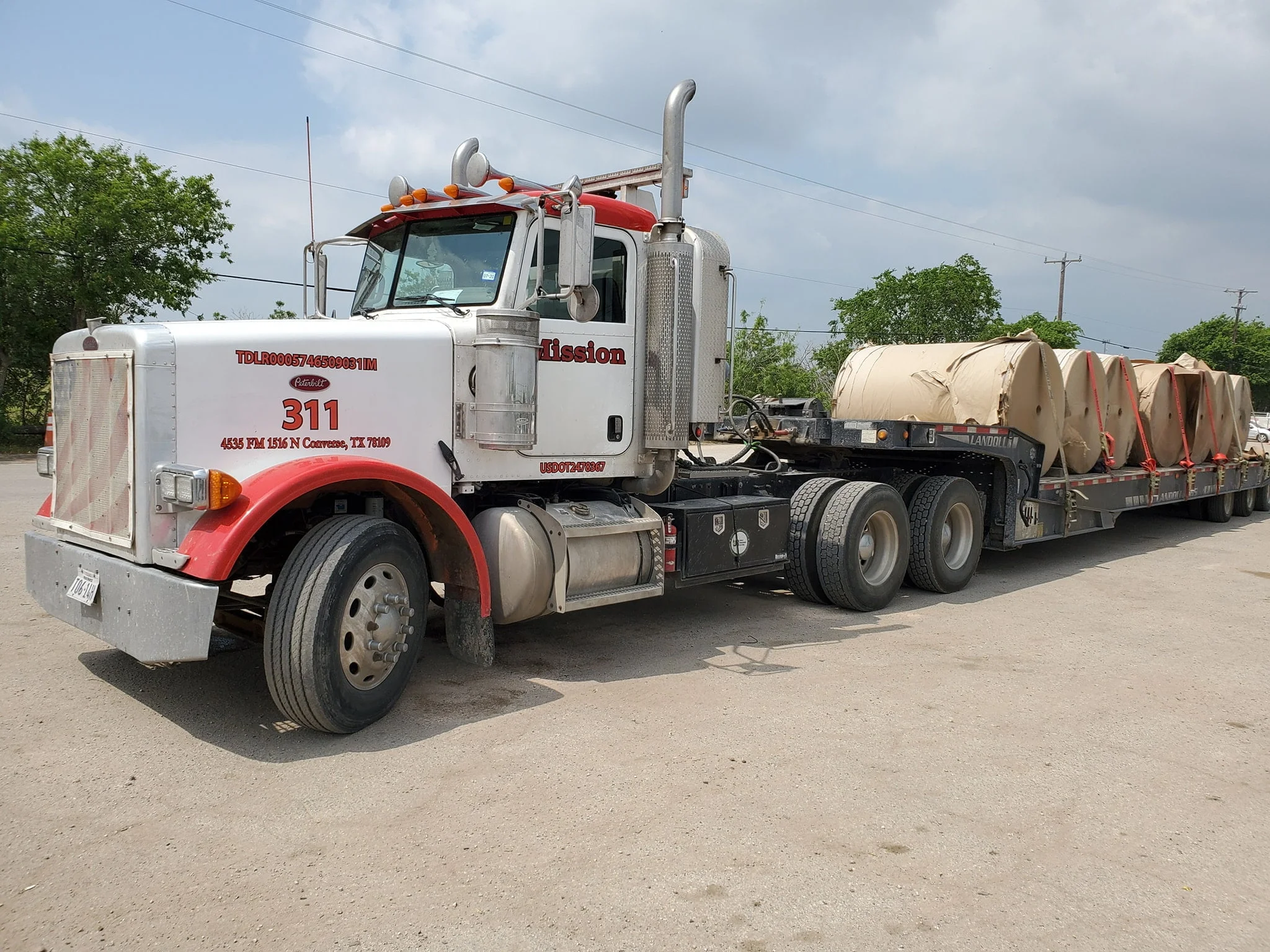 Looking for a Commercial Towing Service
For dependable and efficient commercial towing services in San Antonio, look no further than the team at Mission Wrecker! We prioritize your satisfaction, so you can rest easy knowing that you are in the best hands every time you work with us.
Professionalism, efficiency, and clear communication are extremely important to us. When you choose to work with Mission Wrecker, you can expect us to be by your side, every step of the way. With certified and experienced drivers and operators alongside an impressive fleet, you know that there is no job that we can't successfully complete.
To learn more about our commercial tow truck services, call the Mission Wrecker team today! Our team is standing by to provide you with a towing solution for your commercial needs.
San Antonio RV Towing Service
Looking to tow your RV? Call Mission Wrecker in San Antonio! Our skilled crew covers RV and bus towing in and around San Antonio. For RV towing services that you can depend on, trust the Mission Wrecker team!
At Mission Wrecker, we promise that no matter who responds to your call, you will receive efficient and expert service. If you want to work with the #1 RV towing service in San Antonio, give us a call today!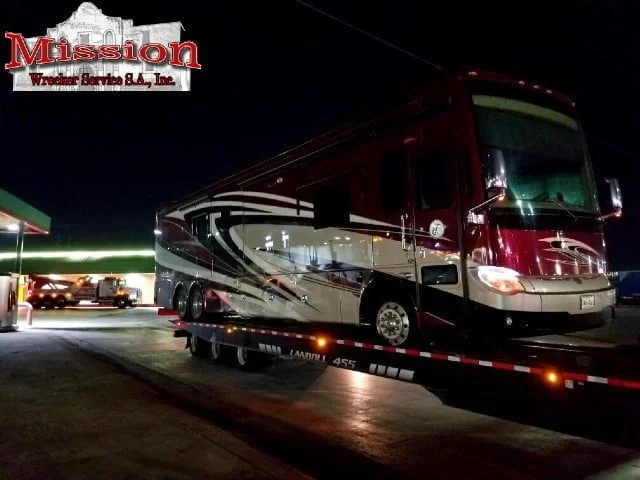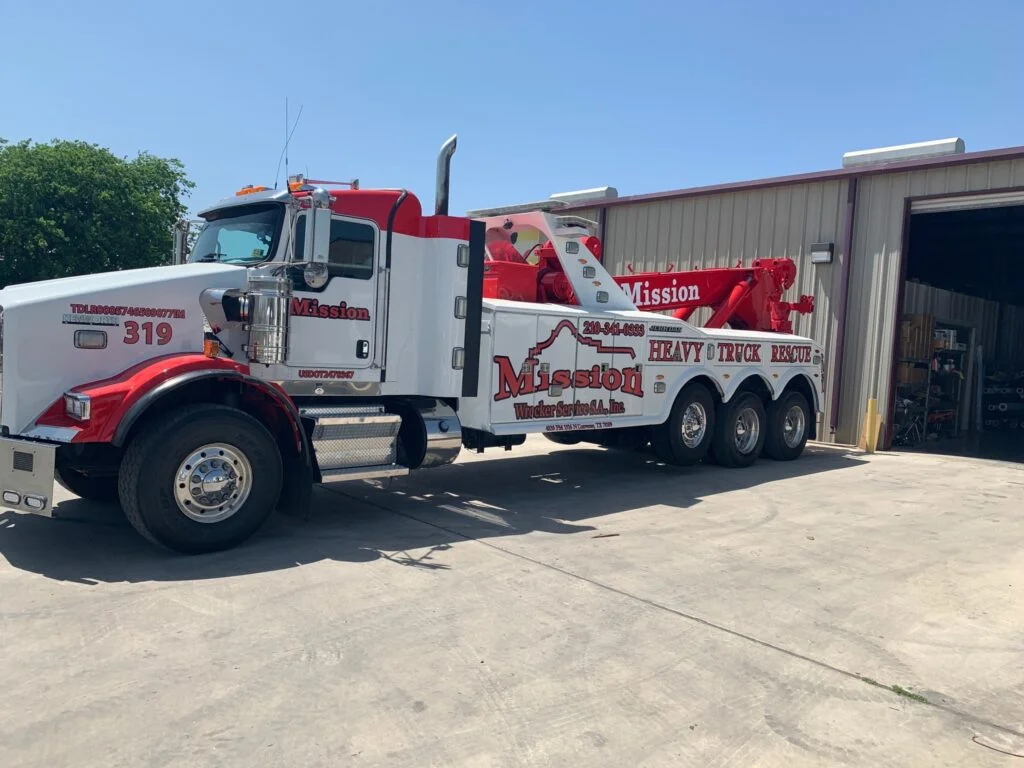 24/7 Best Truck Jump Start Service in San Antonio
If you need heavy duty roadside service in San Antonio, call the Mission Wrecker crew today! For truck jump starts in San Antonio, you know that you can rely on our team 24/7. Rain or shine, night or day, our skilled team is here for you! For an efficient and professional experience, call the jump start pros at Mission Wrecker today!
Construction Equipment Towing San Antonio - Specialized Equipment Towing
For over 50 years, Mission Wrecker has been trusted by San Antonio businesses and individuals for construction equipment towing. Our team knows that construction equipment towing and equipment hauling requires skills and expertise. And we have it! Call the team at Mission Wrecker for your next construction equipment towing job. We are here for you 24/7!
To learn more about our Heavy Equipment Hauling Services, call the Mission Wrecker team today!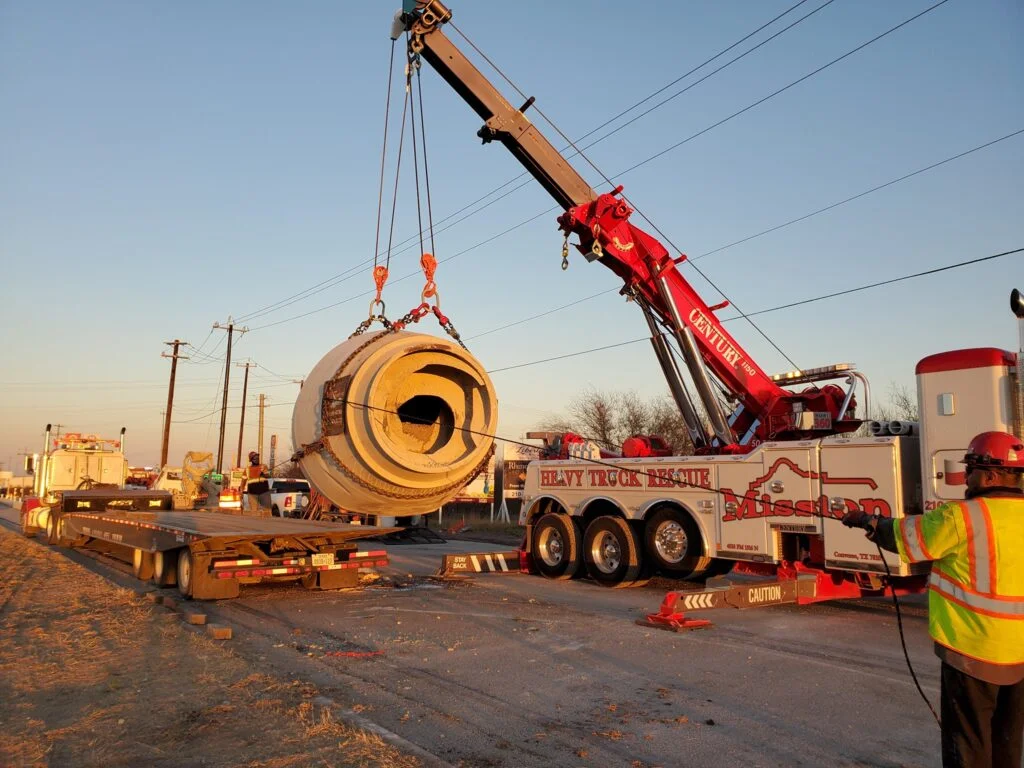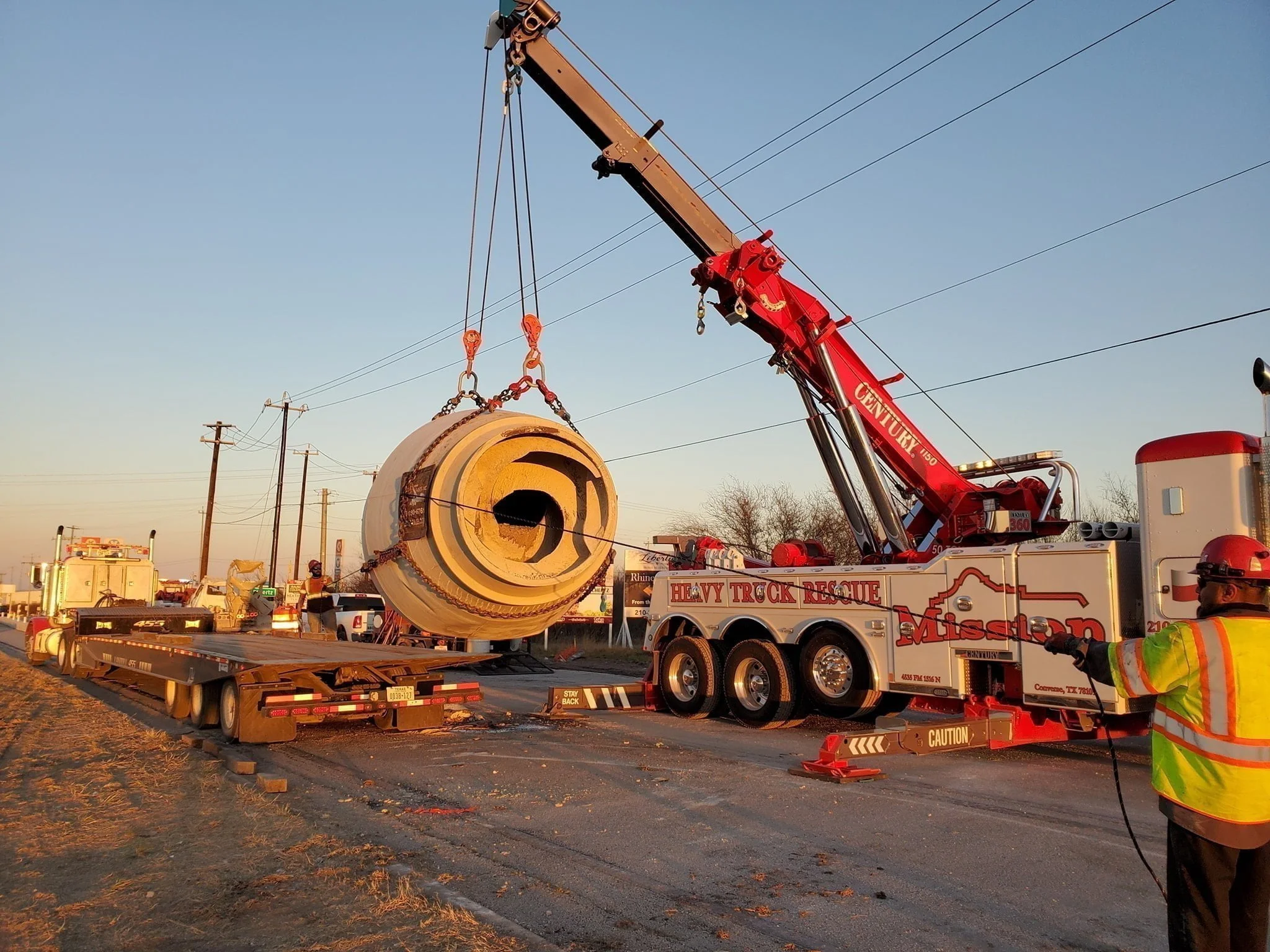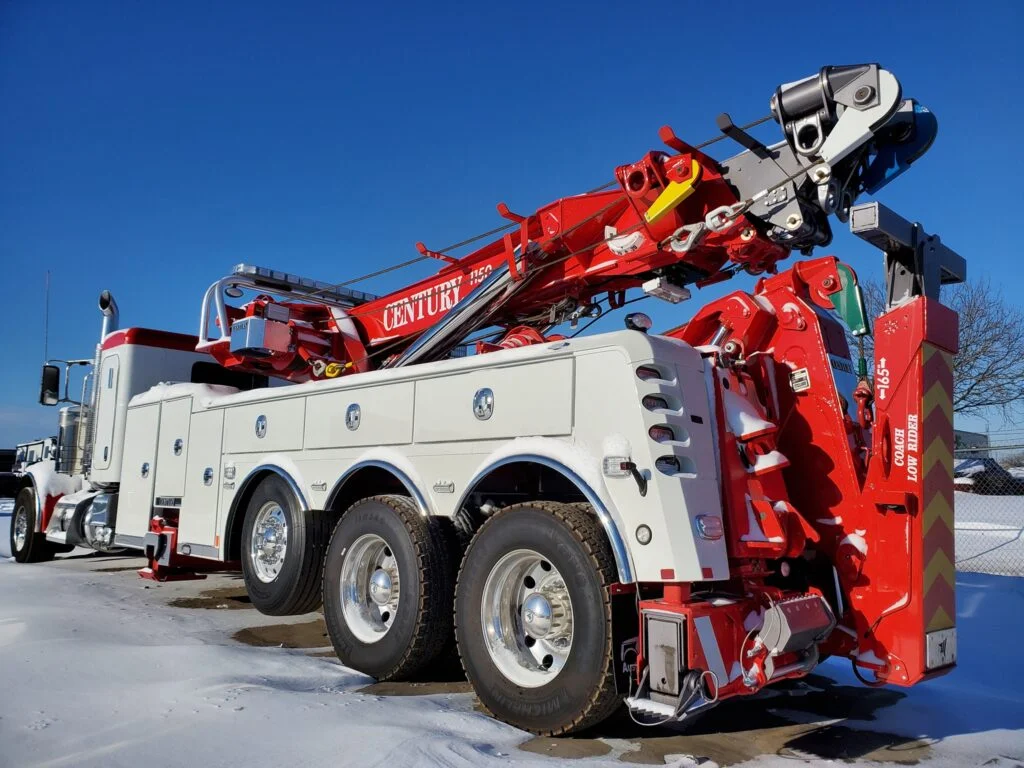 Heavy Duty Towing Recovery San Antonio
In search of a San Antonio trusted towing company for your heavy duty towing recovery needs? Mission Wrecker is the towing company for you! We can tow oil and gas equipment up to 350,000 lbs and we are trusted with multimillion-dollar equipment by our major oil player customers across the state. Wrecked tanks is our specialty!
Businesses and contractors in San Antonio trust our team because we are professional, reliable, and skilled. For your next heavy duty towing recovery job, call Mission Wrecker today!