OUTSTANDING SERVICE, OUTSTANDING RESULTS.
Locally-Trusted Towing & Recovery Services
At Mission Wrecker, we have a rich history rooted in providing top-notch towing and recovery services. Our journey began in 1970 when David Pizzini and Llyod Mooney established the company as a trusted provider of light duty towing and recovery solutions for local car dealers and police agencies. For over three decades, we steadily expanded our fleet and established contracts with local, statewide, and nationwide customers to cater to their diverse towing needs, be it light or heavy duty.
In 2002, our story took an exciting turn as Muhammad Choudary and Vernon Oliver, our current owners, acquired Mission Wrecker Service. They seamlessly merged its operations with their existing company, A Ace Towing, and began operating from our repair shop. The combined expertise and resources of our two companies fueled our growth, leading to an increased demand for a larger facility and storage yard.
As we continue our journey, Mission Wrecker remains committed to providing reliable, professional, and efficient towing services to our clients. We take pride in our experienced team of officers who are dedicated to delivering the highest standards of customer satisfaction.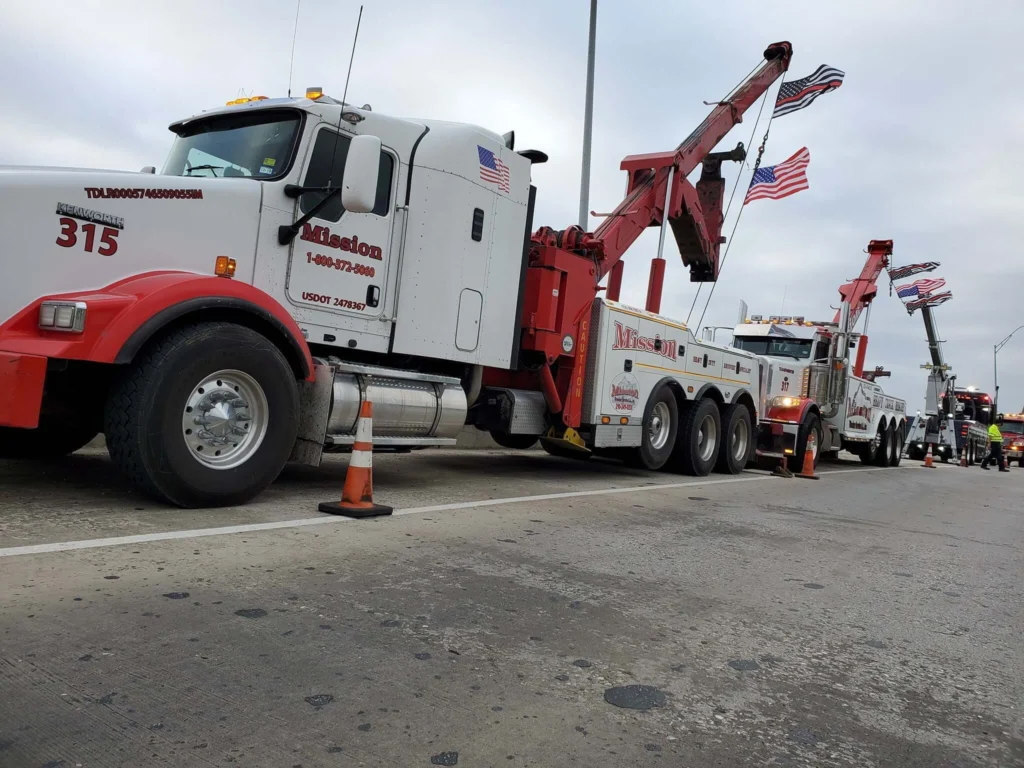 24/7 Dispatch Center: Swift and Reliable Assistance
At Mission Wrecker Service, we pride ourselves on offering a cutting-edge 24-hour dispatch center that ensures seamless coordination and efficient service delivery. Equipped with state-of-the-art digital dispatch, GPS tracking, and mapping systems, our facility empowers our highly trained dispatchers and service associates to promptly deploy the right equipment for every job.
Unlike impersonal answering services or automated machines, our dispatch office is staffed round-the-clock by live, courteous, and knowledgeable professionals. When you reach out to us, you can trust that your service request will be handled promptly and with the utmost care. Our dedicated dispatch staff possesses the expertise and experience to handle even the most challenging situations, transforming potential stress into a pleasant customer experience.
By maintaining rigorous efficiency standards, we ensure that our prompt and reliable service directly benefits you. Not only will you experience a swift response and efficient assistance, but you can also expect accurate invoicing upon request. Our commitment to delivering exceptional service extends to all aspects of our operations, including transparent and precise billing procedures.
Choose Mission Wrecker Service for a reliable partner that leverages advanced dispatch technology and a round-the-clock team of experts, ready to assist you whenever you need us.
Ensuring Safety at Mission Wrecker Service
At Mission Wrecker Service, safety is our utmost priority. We hold ourselves to the highest standards of professionalism and expertise, providing you with a team of towing operators who are fully licensed by the Texas Department of Licensing and Regulation.
To maintain our commitment to excellence, all our tow operators are required to undergo comprehensive annual continuing education training. This training encompasses a combination of in-house programs and third-party courses, equipping our operators with the latest industry knowledge and best practices.
In particular, our Heavy Duty Tow Operators undergo rigorous testing and evaluation by a trusted third-party training provider. This process ensures that they possess the necessary towing and recovery expertise to handle even the most demanding situations with precision and skill.
Recognizing the importance of handling hazardous materials responsibly, our tow operators also receive Haz-Mat training and certification. This additional training ensures that they are well-prepared to address any potential risks or challenges associated with hazardous materials, prioritizing the safety of both our team and the surrounding environment.
When you choose Mission Wrecker Service, you are selecting a towing company that prioritizes safety, professionalism, and ongoing education. Trust us to provide you with a team of highly trained and certified operators who are dedicated to delivering secure and reliable towing services.