OUTSTANDING SERVICE, OUTSTANDING RESULTS.
Heavy Duty Tow Truck Services in Houston & Surrounding Areas
Commercial motor vehicle breakdowns and accidents require a heavy towing service that can get to the big rig quickly and haul it to a repair facility. Mission Wrecker is the heavy tow truck company CDL holders, construction outfits, and agricultural operations, among others, count on.
The fact that Mission Wrecker brings decades of experience to bear matters. That's because our heavy duty towing company has the expertise to safely and efficiently transport rigs and equipment of all sizes, makes, and models. We have access to heavy towing wreckers, winches, forklifts, and a 50-ton boom if necessary. Those are among the reasons we offer cost-effective heavy towing services in the Houston, and surrounding TX, areas.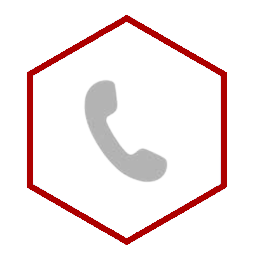 To learn more about our 24/7 Heavy Towing Service and to speak to a member of our team, call us at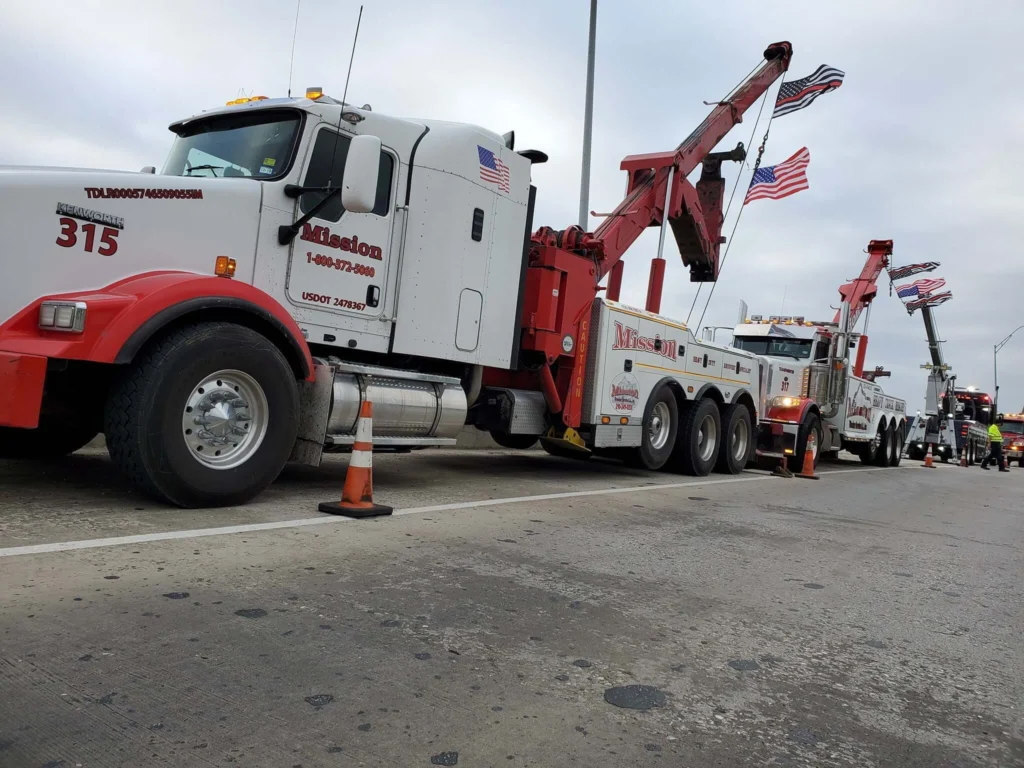 Semi Truck Towing and Big Rig Towing
When a semi truck or another big rig gets sidelined, time is of the essence. Every hour your cargo isn't moving, revenue is lost. To minimize your business losses, our heavy towing company operates around the clock, 365 days a year. Along with the knowledge heavy duty towing services are on their way, our dispatcher will provide an accurate ETA.
Mission Wrecker's big rig towing and semi-towing services provide a reliable solution for commercial trucks and large vehicles in need of assistance. Our team is committed to providing high-quality service to meet the needs of our customers.
Whether you need emergency towing, recovery services, or regular transport, Mission Wrecker's big rig and semi towing services are reliable and available 24/7 to meet your needs.
Off-Road Recovery Service Near Me
Not every towing operation possesses the wreckers, winches, and hoisting machinery to pull a big rig, motor home, or heavy construction equipment out of a ditch. Effective off-road recovery services require a comprehensive fleet and certified technicians with field experience to get the job done. Mission Wrecker onboards the latest technology, seasoned professionals, and equipment to cost-effectively deliver the following.
Heavy Duty Off-Road Recovery
Heavy Duty Mud Recovery
Underwater Retrieval
Burnt Vehicle Recovery
Off-Road Recovery and Towing
Sunken Semi Trailer Lifting
Off-Road Semi Truck Recovery
Bus, RV, Campervan Towing and Recovery
Construction Site Towing and Extractions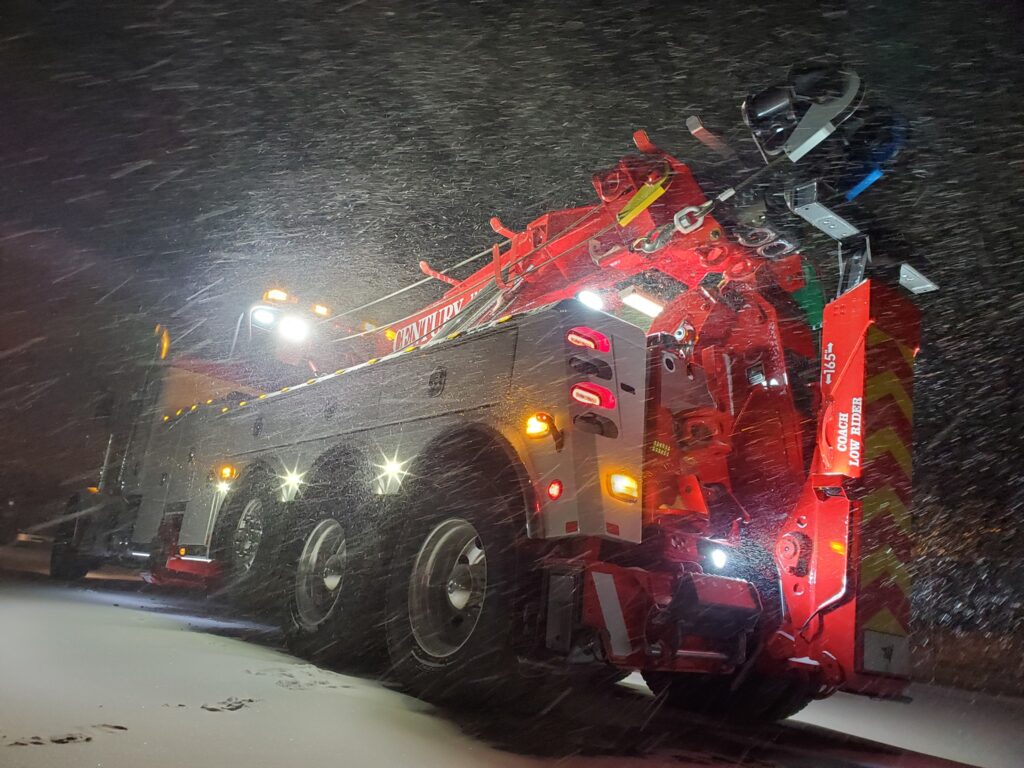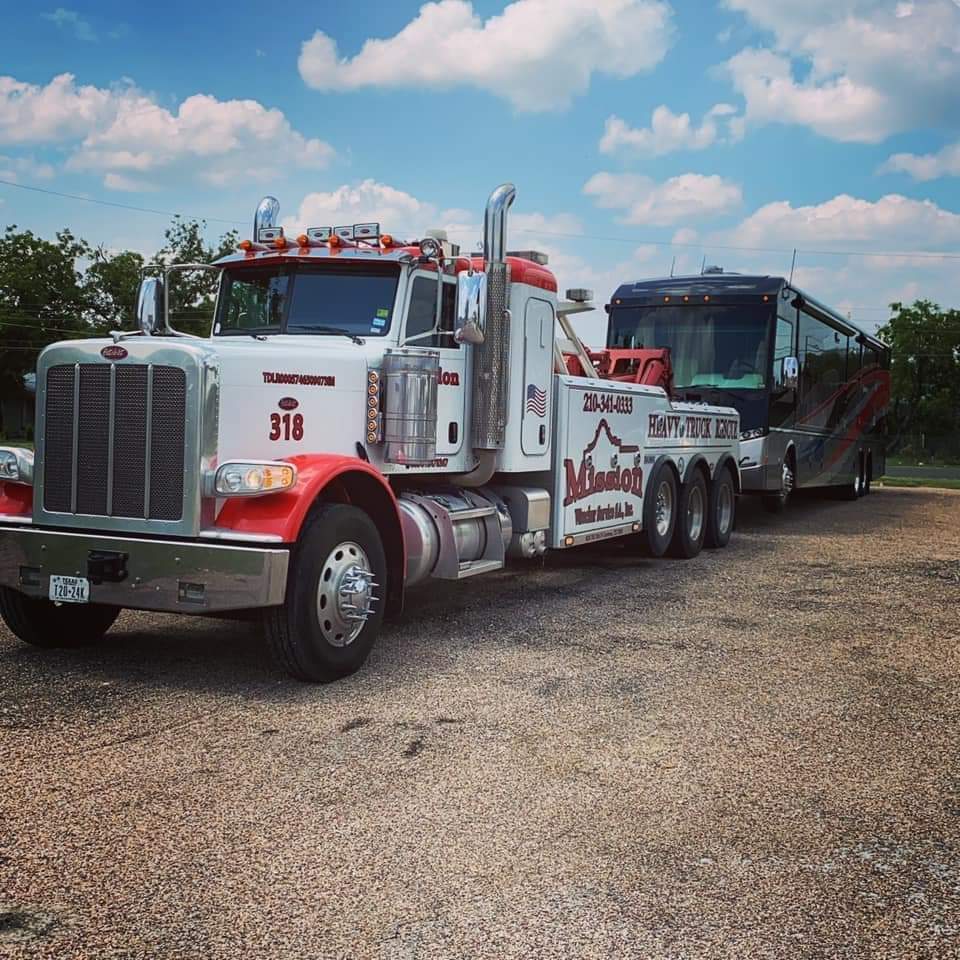 Houston, TX, RV Towing Service
Mission Wrecker offers reliable and efficient RV towing services for customers in Houston, TX and the surrounding areas. We understand that RVs are unique vehicles that require specialized equipment and expertise to tow safely and effectively.
Our skilled tow truck operators are equipped with the latest tools and equipment to handle all types of RVs, from small camper vans to large motorhomes. We exercise diligent care when towing your vacation vehicle because we understand the importance of quality leisure time. Recognized as the #1 heavy towing services provider in the Greater Houston area, our certified operators routinely handle RV and motorhome transports. Mission Wrecker also provides heavy towing services to regional campgrounds.
24/7 Best Truck Jump Start Service
The value of prompt roadside assistance cannot be understated. When a commercial motor vehicle's battery becomes drained, we send a heavy duty towing professional equipped to jumpstart the rig 24/7, 365 days a year. There's no need to spend the night on the shoulder or at a rest area because Mission Wrecker responds day or night.
We understand that a dead battery can be a frustrating and stressful situation which is why we are always ready to help. Mission Wrecker's truck jump start services are available at competitive prices, with no hidden fees or charges. Let us provide you with the highest level of service and satisfaction. We strive to exceed expectations with every job we do!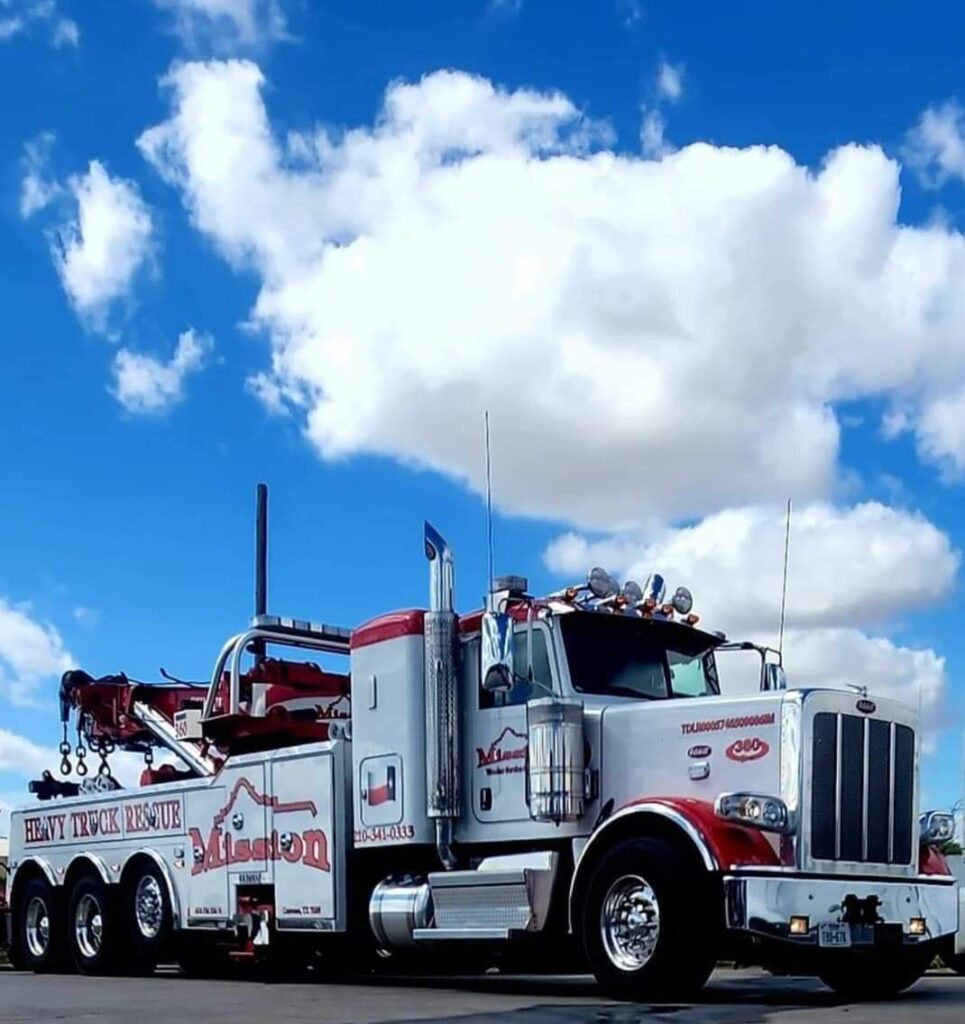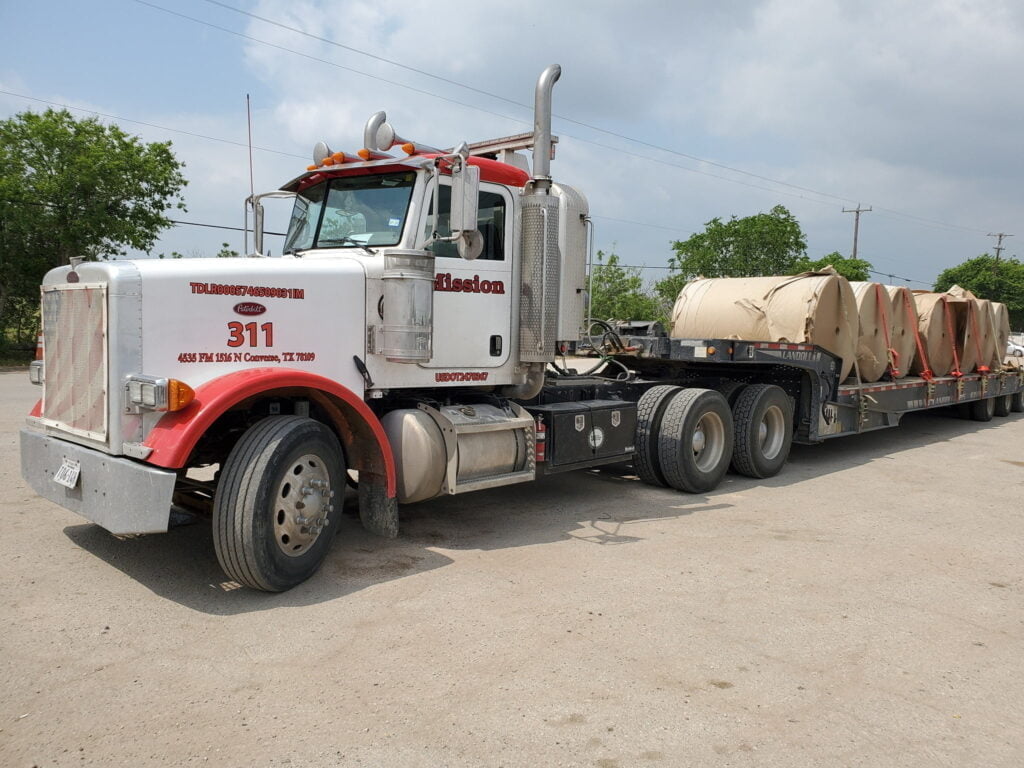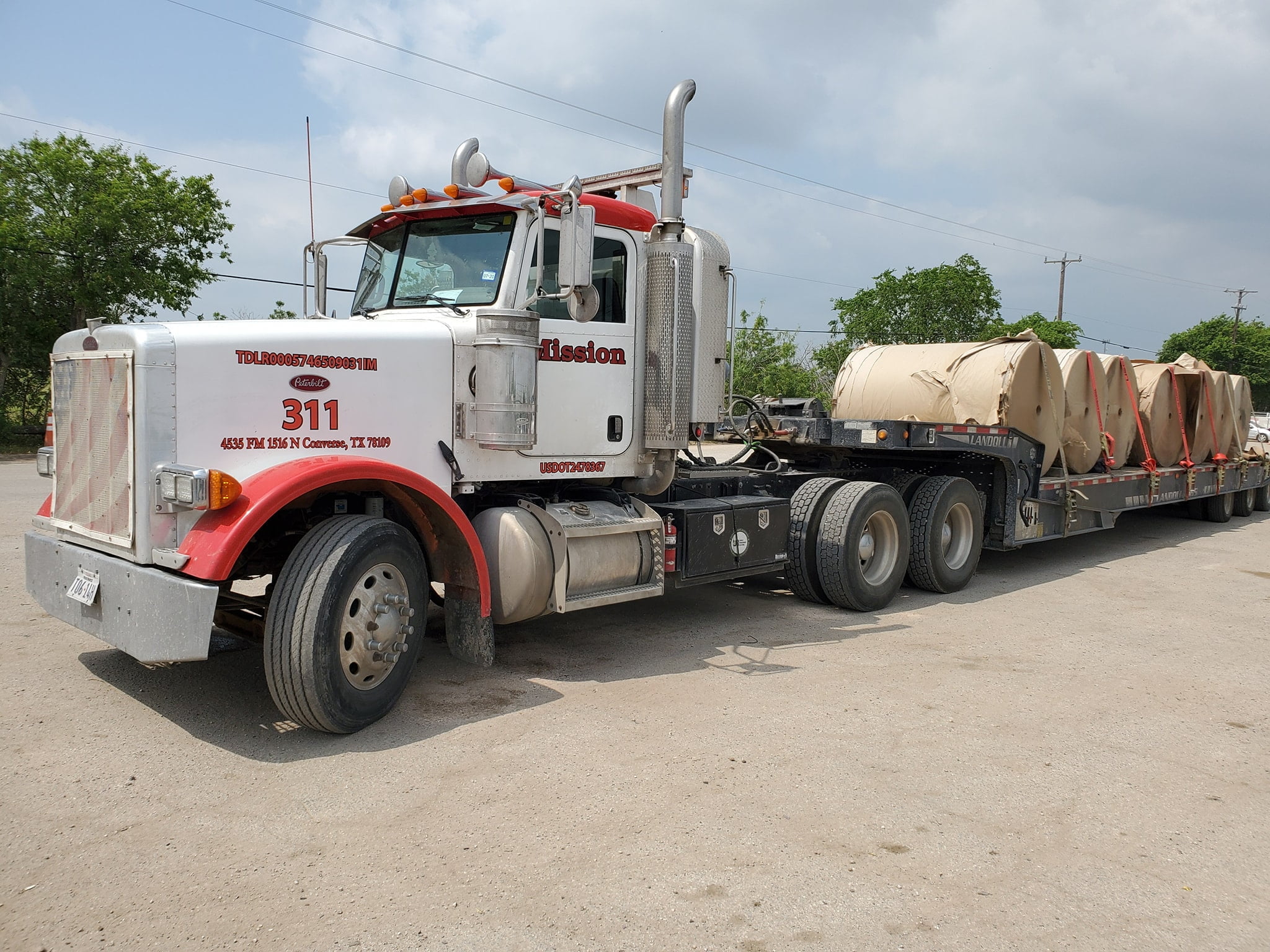 Construction Equipment Towing - Heavy Machinery Hauling
By working with only the best operators and equipment in the Houston area, Mission Wrecker can handle any towing or hauling project. We are state certified, and every member of our team undergoes extensive training. That's why we are the leader in construction equipment and heavy machinery transport.
From cranes and bulldozers to excavators and more, Mission Wrecker can handle all types of construction equipment.
Heavy Duty Towing Recovery
At Mission Wrecker, we have a fleet of wreckers, forklifts, and a 50-ton boom that can extricate a commercial vehicle, RV, or motor home from a dire situation. Once we pull it from a roadside ditch or where it's bogged down, our heavy duty towing services also transport it to the repair facility.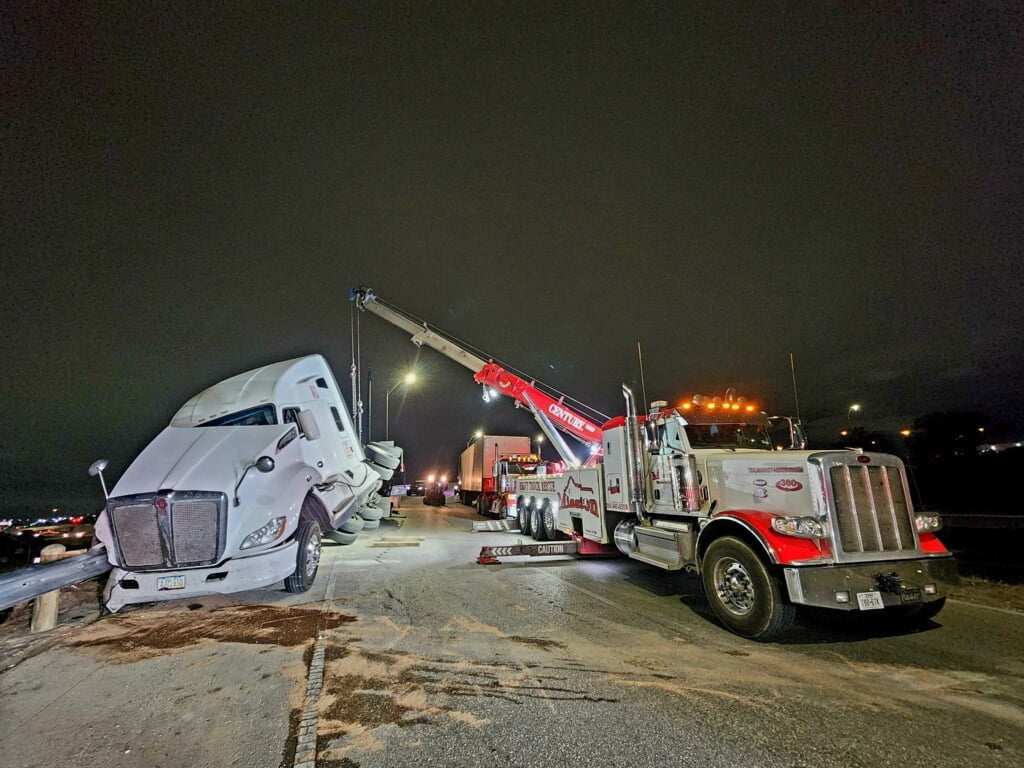 Heavy Duty Towing Service Area
If you've been involved in an accident or need heavy duty towing services in the following areas, contact Mission Wrecker.
77002
77003
77004
77005
77006
77007
77008
77009
77010
77011
77012
77013
77014
77015
77016
77017
77018
77019
77020
77021
77022
77023
77024
77025
77026
77027
77028
77029
77030
77031
77032
77033
77034
77035
77036
77037
77038
77039
77040
77041
77042
77043
77044
77045
77046
77047
77048
77049
77050
77051
77053
77054
77055
77056
77057
77058
77059
77060
77061
77062
77063
77064
77065
77066
77067
77068
77069
77070
77071
77072
77073
77074
77075
77076
77077
77078
77079
77080
77082
77083
77084
77085
77086
77087
77088
77089
77090
77092
77093
77094
77095
77096
77098
77099
77301
77302
77303
77304
77306
77316
77318
77327
77328
77336
77338
77339
77345
77346
77354
77355
77356
77357
77362
77365
77372
77373
77375
77377
77378
77379
77380
77381
77382
77384
77385
77386
77388
77389
77396
77401
77406
77423
77429
77430
77433
77441
77447
77449
77450
77459
77461
77469
77471
77477
77478
77479
77480
77484
77486
77489
77492
77493
77494
77498
77502
77503
77504
77505
77510
77511
77515
77517
77520
77521
77530
77531
77532
77533
77534
77535
77536
77539
77541
77545
77546
77550
77551
77554
77562
77563
77565
77566
77568
77571
77573
77575
77578
77581
77583
77584
77586
77587
77590
77591
77598
77617
77650
77004
77005
77006
77007
77008
77009